South West Water reassurances after dry weather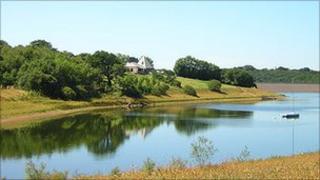 A water firm has said it is confident there will be no water restrictions despite March being the driest in South West England for more than 50 years.
South West Water (SWW) said river levels were as low as they were before the 1976 drought.
But it added it had pumped millions of litres into reservoirs to top them up.
In Devon, the level of Roadford reservoir is down to 77%, compared with 94% last year. Burrator reservoir is 25% down on this time in 2010.
SWW said the region had about a third of the usual levels of March rainfall and that, halfway through April, there had only been 10% of the normal rainfall.
Jeremy Oatey, who farms on the Rame Peninsula in south east Cornwall, said: "If the weather continues like this into May, I think it will become very worrying.
"It's been dry through most of March and April and there's no sign of any change on the horizon."
A number of garden centres and nurseries have reported increasing sales of water butts, watering cans and hose pipes.
'Prioritising resources'
SWW - which supplies Devon and Cornwall, as well as parts of Somerset and Dorset - said it had been pumping river supplies into a reservoir on Exmoor and Stithians in Cornwall.
It said: "We prioritise the use of water resources. Sometimes we use the river water when it's available, and then we switch priority to reservoirs later on."
Communications manager Chris Mills added: "We now have two more reservoirs - Park and Stannon in Cornwall.
"We have also upgraded our distribution network so it is easier to move water around the region.
"Leakage has been reduced by 60% since 1989 and we have improved the efficiency of our works so we use less water in our treatment processes.
"We'd like to emphasise that we are confident this will be our 15th consecutive year without water restrictions."