Cornish pasties sold in Denmark shop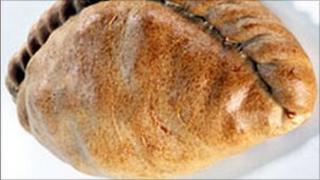 A shop selling Cornish pasties has opened in the Danish capital Copenhagen.
Cornishman Jason Mather joined Crantock Bakery to open the Cornish Pasty House in the Latin quarter of Copenhagen.
He said Danes were fond of pastry and there was a gap in the market.
The pasties are proving so popular he is considering opening new shops and selling the pasties from converted bicycles.
Mr Mather claims his is the first Cornish pasty shop in Denmark.
"I love pasties, and I was sure that the Danes would too," he said.
"I have been delighted how the people of Copenhagen have taken to them.
"Denmark is famous for its bakeries but they mostly specialise in sweet products.
"I felt there was a gap in the market for a quality product and wanted to see how the Cornish pasty fared against the Danish pastry."