Cornwall Council to buy electric cars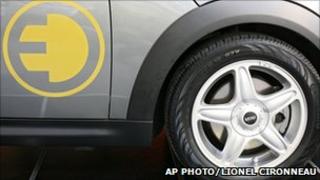 Cornwall Council says it is pressing ahead with plans to convert its fleet of vehicles to battery power.
Last year the council launched a Green Cornwall project which included installing several recharging points along the A30.
The council has admitted it will take longer than planned as there are only a handful of recharging points ready.
The estimated running cost of an electric vehicle is £200 for 10,000 miles of driving - about 2p per mile.
The comparable cost for a traditional car is between £1,000 and £1,500 per 10,000 miles.
The initial price of an electric car is about £25,000.
Cornwall Council's corporate director for the environment, Tom Flanagan, said: "In the next batch of vehicles we get, 25% of those will be electric.
"We're going to evaluate the use and then move it up to 25% and so we're taking a good proportion of the fleet as low carbon vehicles."