No government money for Cornwall-Isles of Scilly ferry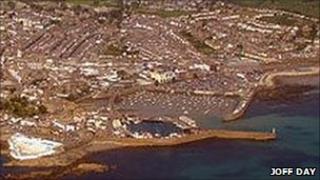 The government will not help finance a new ferry terminal for links between Cornwall and the Isles of Scilly.
The government said it would not be providing £35m to help build the terminal because it was "a scheme that is very poor value for money".
Transport Minister Norman Baker said the scheme went beyond what was needed to maintain services.
Cornwall and island bodies behind the scheme said they were "disappointed and dismayed" by the decision.
Isles of Scilly residents rely heavily on the ferry link to transport tourists and supplies from the mainland.
Vital sea link
Cornwall Council had recommended a £44m terminal be built at Penzance's Battery Rocks to help boost sea links.
The terminal was part of plans to provide a new combined passenger and freight ship, replacing the current Scillonian III passenger ferry and the Gry Maritha freighter.
The scheme had widespread support from the island community, but met with opposition from some critics in Penzance.
They had been unhappy that Battery Rocks was chosen as the site for the terminal.
Mr Baker said the importance of sea connections for passengers and freight between Penzance and St Mary's was recognised.
But he added that the Department for Transport could not support the allocation of departmental funds "particularly at this time of fiscal stringency".
Cornwall Council said ministers were missing the opportunity to safeguard the future of the vital sea link by not supporting the plans by a Route Partnership into the scheme.
The partnership includes Cornwall Council, the Council for the Isles of Scilly and the Duchy of Cornwall.
'Anticipation'
Graeme Hicks, Cornwall Council's cabinet member for transportation and highways, he was "very disappointed by the government's short-sightedness" and that developing the project had already cost more than £5m - including £2m from the council.
Philip Hygate, chairman of the partnership and Chief Executive of the Council of the Isles of Scilly said islanders had been watching the project "with growing anticipation".
He said: "This would, when implemented, have safeguarded the service for years to come."
The Friends of Penzance Harbour pressure group welcomed the announcement.
John Maggs from the group said: "We're relieved that the Department for Transport has stopped the scheme in its original form because it would have been hugely harmful."
He added that he was glad that the "door was open for an alternative".
The Isles of Scilly Steamship Group said its existing vessels were fit for purpose "until at least 2014" and there would be no interruption to services for the foreseeable future.