Threatened tourist information centres win a reprieve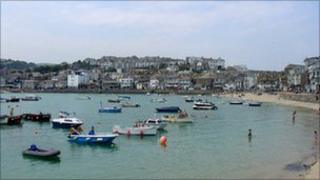 Three tourist information centres in west Cornwall which were due to close have won a last minute temporary reprieve.
The centres in St Ives, Penzance and Falmouth had been due to close on Thursday but will now remain open until 4 May.
The financial axe had been hanging over them for several months.
The chief executive of Visit Cornwall Malcolm Bell previously said he was shocked at their runnnig costs.
Talks have been held with several different organisations but without success.
In a last minute change of heart Mr Bell said the centres (TICs) will stay open to cover the busy Easter, Royal Wedding and May Bank holiday weekends.
"We'd be delighted if a completely different arrangement could come forward. I don't think it will happen by the 4 May.
"We would hope we can continue those discussions so that maybe things can be developed in the year, maybe even before the summer," said Mr Bell.
The Mayor of St Ives Yvonne Watson said she was pleased with the temporary reprieve but was keen to look to the long term future.
"We've been in discussion with Visit Cornwall for some time now. We've put a lot of time and effort into trying to keep the TIC open.
"With the help of Cornwall Council and Visit Cornwall we are looking at re-opening it in June."
Last year managers at Cornwall's council claimed there had been a massive shift away from the centres as visitors use the internet instead.
Cornwall has 21 TICs but only the St Ives, Penzance and Falmouth branches are directly operated by Visit Cornwall, on behalf of Cornwall Council.