Rare buttercup flowers found on Scilly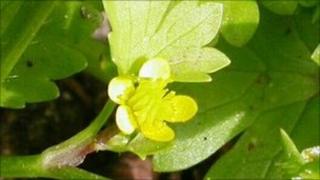 A rare buttercup has been discovered growing on the Isles of Scilly.
The St Martin's Buttercup is thought to be more sprawling than the common or garden variety.
To the trained eye, it appears to have hairs on it and was found at Churchtown Farm on St Martin's, one of the Isles of Scilly.
Local farmers believe its growth is down to rotating the fields. It was spotted by Natural England officers on a visit to the farm.
Co-owner of Churchtown, Ben Julian, said: "Natural England representatives got excited as they toured the 30-acre property, not just because of the St Martin's Buttercup, but also because the farm's fields are home to a long list of rare arable plants."
Other rare species include the purple-headed Babbingtons Leek, Italian Lords and Ladies, similar to the wild Arum, and Quaking Grass.
The buttercup discovery was made as Natural England assessed the farm to see if it was suitable to include in the Higher Level Stewardship (HLS) scheme, created to safeguard England's natural wealth.
Mr Julian said: "We've now been accepted on to the scheme which is fantastic news.
"As a result we have committed, for the next 10 years, to use a number of traditional farming methods."