Cornwall could become an 'observatory' for green power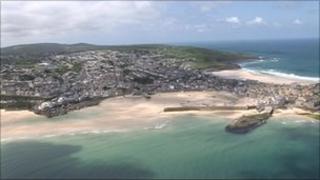 Cornwall could become a "living laboratory" to help the government develop green energy.
The council has written to Energy Minister Greg Barker suggesting the county becomes a renewable energy "observatory".
It wants to use Cornwall's natural resources to develop the economy by creating "low carbon jobs".
It recently expressed disappointment at government plans to reduce the subsidy for solar energy production by 70%.
Tim German, from the council's Green Cornwall Programme, said: "Cornwall is a living laboratory for renewable energy.
"It is extremely well placed as a low carbon observatory as it ticks all of the renewable energy boxes.
'Confused stance'
"Being in our geographical position away from the hubs of large scale nuclear reactors and power stations, we have to seriously consider our own energy security."
Mr German said Cornwall's natural resources included the extensive coastline for creating wave energy, a suitable climate for developing wind and solar power, and good geothermal capability for generating energy from "hot rocks" underground.
The council said the government had been criticised for its "confused stance on renewable energy".
Earlier this month it expressed disappointment at government plans to reduce the feed-in tariff (subsidy) paid to people generating solar energy by 70%.
The government has said large scale projects are threatening to use up the cash fund which was supposed to subsidise homes and small businesses generating solar power.
Earlier this year a solar "gold rush" was predicted in Cornwall, with the council approving a number of commercial solar energy projects on the basis that the government subsidy made them financially viable.