Cornwall pub Pandora Inn 'will be rebuilt' after fire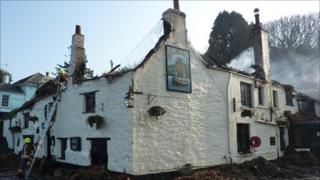 Owners of a historical Cornwall pub reduced to a blackened shell after fire ripped through it have pledged to rebuild it.
The blaze, thought to have started in a chimney, destroyed the 13th Century thatched Pandora Inn near Mylor on Thursday.
Inspections are due to take place on the structure of the pub amid fears that a wall could collapse.
Landlord Steve Franks, his wife Diane, son Ryan and staff were uninjured.
Cordelia Folland, who lives nearby, said: "People come from all over the world to see the Pandora.
"It's a real blow with the tourist season just beginning."
'Very upsetting'
James Staughton, managing director of St Austell Brewery which owns the pub, told BBC News: "It is a very special pub for us and we will restore it.
"We are talking to insurers and architects this morning and rest assured the Pandora will be returned."
He said the fire was "very upsetting" for the many people who have visited the picturesque pub.
"I have been very touched by the response from all over the world," he said.
"It's the most photographed and most idyllic of all our pubs and in the most wonderful setting."
He added: "Our thoughts are with Steve and Diane and their family and we want to do our best to look after them."