Carn Brea gorse fire 'started deliberately'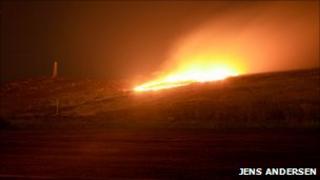 Police and firefighters are investigating the cause of a gorse fire near Redruth in Cornwall believed to be an arson attack, the fire service says.
Emergency crews were alerted to the fire, which spread across seven acres of land at Carn Brea after being fanned by strong winds, on Wednesday night.
Witnesses said it could be seen from several miles away.
Three crews, from two from Redruth and one from Camborne, tackled the fire, which came very close to homes.
Firefighters surrounded the fire and using beaters extinguished the blaze after being called to the scene at about 1925 GMT, the fire service said.
Crews then monitored the fire and allowed it to burn to natural breaks.
Dr Jens Andersen, whose house at nearby Treggajorren was closest to the fire, said it was "pretty scary".
He said: "I know that the last time there was such a fire, it did spread quite far and quite fast - all the way to our back gardens.
"It was a big worry because I know these things can move very fast and and the wind was right in the direction towards my home."
Earlier this month, the fire service said it had seen an "unprecedented number" of gorse and heath fires within a three-month period.
Between 1 January and 15 March there were 44 reported gorse and heath fires.
Up to half were believed to have been started deliberately, the service said.