Truro man's wetsuit raises cash for Japan quake victims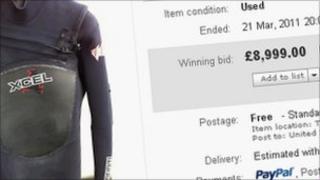 A used wetsuit sold on auction website eBay has raised more than £8,000 for victims of the Japanese earthquake.
The witty description of the "urine-free" garment in question quickly went "viral" on the internet.
As the advert spread on Facebook and Twitter, the seller, Daniel Morgan from Truro, was bombarded with offers.
Message from companies and manufacturers poured in, keen to donate their products to the sale.
'Unexpected attention'
The winner of the auction, walked away with many extras including two surfboards, surfing boots and gloves, a surf magazine subscription, a car roof-rack for a surfboard, a photography session, DVDs and concert tickets.
Mr Morgan wrote: "I bought this wetsuit brand new last year and have worn it a fair bit. When I say 'fair' I reckon about 20 times, but then probably more like 30. A fair few times anyway.
But just days later, things stated to spiral and he posted a new message, saying: "This listing for my urine-free wetsuit is getting a lot of unexpected attention which is nice but I'm feeling I should do something positive, so I've decided to give 90% of the money it makes to the Red Cross to aid their efforts in Japan."
The haul sold for £8,999, with 90% of the money going to victims of the earthquake that rocked northern Japan and created a powerful tsunami that devastated coastal communities.