Petition forces new Cornwall Council hospitals debate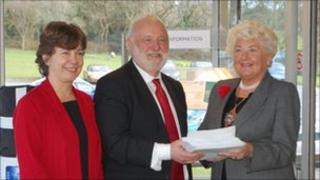 Health campaigners in Cornwall have forced the unitary authority to hold a full council debate on plans to move community hospitals out of NHS control.
More than 5,000 people across the county signed a petition to show their opposition for hospitals to be run by a Community Interest Company.
Last year, the authority introduced a policy allowing a debate if there were this number of signatures or more.
Councillors on the Conservative-led authority will discuss it on 29 March.
Labour councillor Jude Robinson started the petition to trigger the full council debate.
When handing the petition to council chairman Pat Harvey, campaigners were joined by Labour MP Frank Dobson, who was Secretary of State for Health in 1997.
Community Interest Companies (CICs) were set up under the 2006 Companies Act to "operate for the benefit of the community rather than for the benefit of the owners of the company".
The Cornwall and Isles of Scilly Primary Care Trust's acting chief executive, Steve Moore, said the transfer of staff to the new county organisation would be completed by October.
Fourteen community hospitals - including facilities in Falmouth, Helston, Liskeard and St Austell - district and school nurses and speech and language therapists will be affected.
Health unions raised fears about the speed of the move which will have an impact on 2,400 staff.
The Department of Health said ideas for organisation such as CICs were "not new".
It said: "The NHS has always worked with others from the independent sector, from social enterprises and from charities."