European funding for Cornwall's air ambulance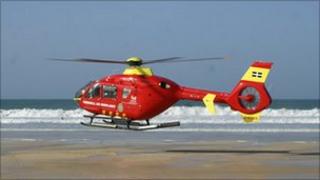 Cornwall's air ambulance has been awarded £1m in European funding.
The grant from the European Regional Development Fund will help build a new base for the helicopter and charity workers at Newquay Airport.
The money will have to be matched from the charity's reserves and fundraising efforts.
The charity is planning to move from Roche near St Austell to a new base on the south side of Newquay's main runway by Christmas.
Airport managing director Al Titterington said: "The new facility is another exciting development here at Newquay Cornwall Airport and will further strengthen the relationship between the Air Ambulance Trust and the airport."
Cornwall's air ambulance helicopter can reach any part of the county within 20 minutes and the Isles of Scilly in 28 minutes.
The helicopter has carried out more than 22,000 missions since its launch in 1987.
Paula Martin, chief executive of Cornwall Air Ambulance Trust, said: "Strategically, this charity is growing quickly, mainly because we need to meet the costs of operating a busy air ambulance helicopter."
In 1987, the air ambulance cost £250,000 to operate. The charity says to keep the air ambulance flying during 2011 will cost about £1.6m.
In January it was revealed HRH The Duchess of Cornwall had become the first official Patron of the Cornwall Air Ambulance Trust.