Eden's decade in the spotlight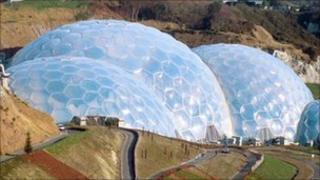 The Eden Project is celebrating its 10th anniversary.
The site was originally a china clay pit called Bodelva near St Blazey in mid-Cornwall.
It was 160 years old and its resources had been exhausted.
A few miles down the road at the former Cornwall home of the Tremayne family, now internationally known as the Lost Gardens of Heligan, Tim Smit was coming up with a plan that would make the dormant pit world famous.
The idea was established as one of the Landmark Millennium Projects to mark the year 2000.
But in the first two months of construction, building work was hampered by constant rainfall.
More than 40 million gallons of rain water drained into the pit.
This early incident prompted the engineers to come up with a subterranean drainage system.
It now collects all the water coming on to the site and uses it to irrigate plants.
The centre-piece of Tim Smit's dream were the biomes. You could fit the Tower of London in the Rainforest Biome.
The biomes were built using hundreds of hexagonal and pentagonal, inflated, plastic cells supported by steel frames.
The biomes entered the Guinness Book of Records as the biggest conservatories in the world.
With the help of students from Reading University Eden made more than 83,000 tonnes of soil for the thousands of tropical plants held in and around the biomes.
The Eden Project Visitor Centre opened to the public in May 2000, showing how Tim Smit's dream was becoming a reality. In March 2001 the full site opened for the first time.
In the same year Brit-Pop band Pulp played the first ever Eden Sessions. Over the years several bands have used the biomes as their unique backdrop including Oasis, Lily Allen and Amy Winehouse.
The Eden Project hosted the 'Africa Calling' concert of the Live 8 musical fundraiser on 2 July 2005.
It was also used as a filming location for the 2002 James Bond film, Die Another Day.
In December 2010 the Eden Project received permission to build a Geothermal electricity plant which will generate enough power for Eden and about 5000 households.
In the last ten years 13m people have visited the Cornish attraction.
When asked about the next ten years, founder Tim Smit, who received an honorary knighthood in January, said: "Eden should simply create constant memorable moments that inspire others to have the confidence to make their own."