Camilla opens £8m primary school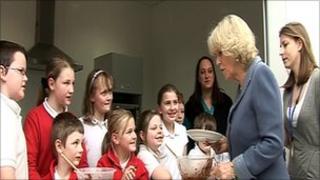 Camilla, Duchess of Cornwall tucked into a brownie made by pupils when she officially opened an £8m primary school in the county.
Children, staff and parents gave the Duchess a warm welcome at Camelford Primary School.
Earlier she toured the factory in Launceston which produces desserts for the Duchy Originals brand putting a crest on six different pies.
Camilla also visited the newly refurbished Launceston Town Hall which was opened in January.
While there she was greeted by children from four of the town's schools as the sound of pipes filled the air.
Cornish piper Rob Strike said: "I was asked to come along and give a proper Cornish welcome, so I think I did that."
The Duchess was also presented with a drawing of Launceston Castle by the children of St Joseph's School.
The drawing took teacher Earl Newton a year to complete.