ShelterBox earthquake response team arrives in Japan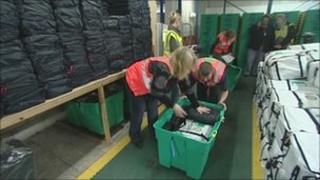 A response team from Cornish-based aid organisation ShelterBox has arrived in Japan following Friday's earthquake.
The team has arrived in Tokyo and is to travel to the worst-hit coastal areas to asses what assistance is needed, the charity said.
The 8.9-magnitude earthquake and tsunami has killed more than 600 people. Hundreds more are feared dead.
ShelterBox said work was continuing at their Helston base to keep the supply of aid boxes topped up.
Head of operations John Leach said: "We pack very quickly, and we're very lucky that we have hundreds of volunteers in Cornwall who can help us respond quickly.
"So we're getting more boxes ready so we can respond in volume."
The quake struck the north-eastern shore of Japan at 1446 local time on Friday (0546 GMT), sparking a 13ft (4m) tsunami.
Japan's Prime Minister Naoto Kan declared a state of emergency.
ShelterBox is an international disaster relief charity which provides emergency shelter and life-saving supplies to families around the world affected by disasters.
Each aid box contains a tent for a group of up to 10 people. It can withstand extreme temperatures, high winds and heavy rainfall.
The boxes also contain a basic tool kit, blankets and other survival equipment.