Regulator to work with Whitsand Bay silt dump critics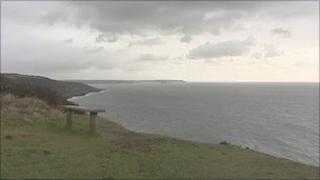 A marine regulator is to work with coastal groups in Whitsand Bay in Cornwall to address concerns about dumping of dredged material, it says.
It comes after the Marine Management Organisation (MMO) announced the findings of an independent review of silt dumping at nearby Rame Head.
The review found that disposal activities complied with the law and environmental limits.
But it added there were still local concerns and it wanted to address them.
Effects 'tolerable'
Millions of tonnes of silt from the nearby River Tamar have been dumped in the area over the years.
Much of the silt comes from dredging channels in the River Tamar for warships at Devonport docks in nearby Plymouth.
Local critics said they were concerned about the damage they believed it was causing to the environment, such as affecting sea beds and local water quality.
In its reviews, the MMO said that any environmental effects "remained tolerable".
Despite this, James Cross, acting chief executive of the MMO, said he was encouraging people in the local community and industry who had an interest in the area to work with the organisation.
He said: "We are in talks with local coastal groups to explore options."
The MP for South East Cornwall, Conservative Sheryll Murray, said she was "disappointed" that dumping would not stop in light of the report.