Is incineration the answer to Cornwall's waste dilemma?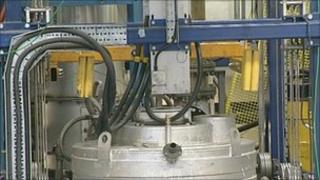 Environmental campaigners claim plans to incinerate much of the South West rubbish may prove to be a big mistake.
A number of energy-from-waste plants are to be built around the region but campaigners say there may be better technologies.
It is a controversial topic in Cornwall as the waste contractor SITA was refused plans for a waste-to-energy plant by the former Cornwall County Council.
Plans to build a similar project were approved for Plymouth in February.
But one alternative to incineration has been put into practice in Swindon.
Plasma power
A high-energy Plasma arc creates temperatures ranging from 3,000 degrees to 7,000 degrees Celsius.
An electrode is lowered into the plasma converter and gas and solid material is fed into the chamber.
Clean exhaust gases are produced which are then used to power generators. The rest of the material solidifies into what is called plasma rock.
The rock is broken down and used in the construction industry.
Chris Chapman, chief technical officer with Advanced Plasma Power, said: "Until recently waste management was all about throwing material into a big hole in the ground.
"There's been a big shift in the way we see waste treatment."
Supporters of the scheme say a full scale plant could produce enough power for 15,000 homes. The plant is also said to be within European Union limits.
Belgium and Norway are both about to build Plasma facilities.
'Always risk'
But in the South West many local authorities say they favour more traditional methods of disposing of rubbish.
Ben Jennings, from Devon County Council, said: "Our basic remit is to deliver value for money services for the public.
"One of the things local authorities don't tend to get involved in is proving new technologies.
"There's always a risk it can go wrong and cost an awful lot of money."
But one factor that councils have to take into account is that landfill space is running out in the South West and its local authorities are coming under increasing pressure to find an alternative.