Pete Goss' yacht hull sold for Cornwall's ShelterBox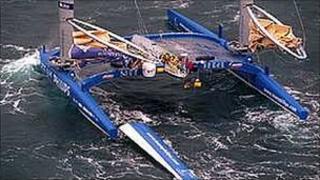 A section of hull from a £4m catamaran abandoned by explorer Pete Goss in 2000 has been sold for £510.
The money made from the sale has been donated to Cornish charity ShelterBox.
The 40ft (12m) piece of wreckage was salvaged from the Team Philips super-yacht which was hit by a freak mid-Atlantic storm during a round-the-world race.
Seller Mike Reynolds from A&P Falmouth said he would not reveal the name of buyer who was from south-west England.
He told BBC News: "We had no idea whether anyone would buy the section of the hull, so we are happy with the result."
The item had been a tourist attraction on the quayside at Falmouth Docks after it was donated to the town following an exhibition at the National Maritime Museum.
Team Philips sailor Pete Goss had given permission for shipbuilders A&P Falmouth to sell the item on eBay and to raise money for the charity.
Before the sale Mr Goss said: "If through finding a new home for Team Philips we can provide a home for people who have suffered through ShelterBox, I couldn't think of a nicer end for this piece of vessel which has been such a huge part of my life".
ShelterBox is a charity that helps people who have been affected by disasters worldwide.