Puppies attend police dog school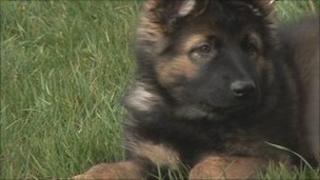 A group of eight German Shepherd puppies have been taking their first steps on the way to becoming police dogs.
From the age of eight weeks they were placed with foster carers who will look after them for a year.
They have just received their initial training at Devon and Cornwall Police Headquarters in Exeter.
It is the biggest litter of puppies the region's police dog training school has taken on.
Sergeant Paul Glennon, one of the dog trainers, said: "This is a particularly mischievous litter, probably the most mischievous we've ever had.
"The reason this is such a big class is that adjoining forces have also expressed an interest in having puppies from our school."
The foster carer is responsible for developing the puppy's personality with the aim being to hand over a well-balanced, confident and social dog, ready for its training.
Jenny Lowther, one of the foster carers, said: "I don't know how easy it will be to give him back, but I look on it that it's a job and he's going to go on to better things."
Over the last 13 years, puppy walker Lynda Parlour has looked after 33 potential police dogs for Devon and Cornwall Police.
Lynda's way of handling these powerful young dogs is quite simple.
She said: "You encourage what you want and discourage what you don't want."
German Shepherds have been used as police dogs for several decades as the breed is favoured for its strength and intelligence.
Soon the current batch of police puppies in the region will undergo an intensive 13 week training course.
The main aim of the training is that a dog will react in the same way each time it hears a certain command or sees a visual sign from the handler.
The training is very much reward-based, be it physically, verbally or with food.
The course covers the principles of tracking, searching for people and property, obedience training and criminal work.
Once the three month training is completed, there is an assessment to decide whether the dogs are qualified to become police dogs.
The animals also have to pass a Home Office inspection once a year to ensure they are safe and effective and can confidently carry out the tasks expected of them.
Police dogs have an average working life of about seven years and live with their handler into retirement. The German Shepherd breed has an average life of 13 years.