'Cornish Spitfire' heads for US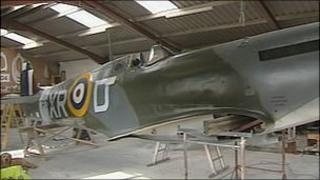 A full scale replica of a classic Spitfire has been built in Cornwall to be shipped to the US.
The model was commissioned by the United States Air Force as a memorial to Bill Dunn, a US fighter pilot.
Mr Dunn was the first pilot with 71 Eagle Squadron to shoot down two German aircraft in a day.
The model has been produced by Gateguards UK, a specialist historic plane company whcih is based in north Cornwall.
The replica, a Spitfire Mk 2A, has been built in a shed next to Delabole's slate quarry.
The aircraft is made of fibreglass with a steel frame and has been copied to the exact details of the original, even down to the rivets.
The originals were flown by American volunteer pilots during the Second World War.
Fighter ace
Gateguards UK's owner David Hobson said: "We go back to the original design drawings of the Spitfire and work very closely with museums.
"We also have an aviation expert who looks after the research for us."
Mr Dunn is regarded by many as the first American ace of World War II.
After the war he fought in the Chinese Civil War on the side of the Nationalists.
He later helped train the Iranian and Brazilian Air Forces.
Now the replica has been built, it will be dismantled and shipped to a US air force base in North Carolina.
Staff from the Cornish company will follow it to rebuild the aircraft in America.
The Spitfire will be on display at the Seymour Johnson Air Force Base in North Carolina as part of a tribute to Mr Dunn.