Cornwall and Devon presenters' comedy masterclass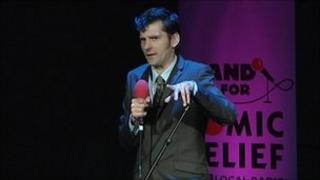 Three radio presenters from BBC Radio Devon and BBC Radio Cornwall have taken part in a comedy masterclass ahead of this year's Red Nose Day.
Interactive Lunch presenter David Fitzgerald, from BBC Radio Devon, and Matt Pengelly and Michael Taylor from BBC Radio Cornwall, have pledged to perform a stand-up comedy routine to a paying audience to raise money for Comic Relief.
During the master class at the BBC's Broadcasting House in London, their 60-second performances were scrutinised by professional comedians, including John Culshaw, Jo Brand and Hugh Dennis.
After performing in front of the panel, Michael Taylor said: "To perform at the Radio Theatre at Broadcasting House was the most nerve-wracking and special moment in our stand-up comedy careers so far."
'Fear factor'
Matt Pengelly said: "Our celebrity panel were so down to earth and helpful - and genuinely funny as well.
"They were very clear that we had to relax and be ourselves and trust in our broadcasting ability - after all, that's what we do every day.
"But I have to say the fear factor of standing with a microphone in front of an audience is so much greater than reading the news or going live on BBC Radio Cornwall or BBC Spotlight."
David Fitzgerald, Michael Taylor and Matt Pengelly will be performing their stand-up routines in aid of Comic Relief on 16 March at the B-Bar in Plymouth.