New South West marine conservation zones proposed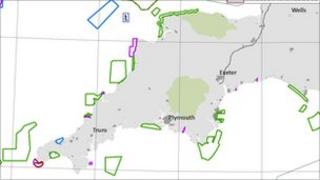 Maps have been published showing the possible network of new marine conservation zones around the South West of England coastline.
More than 50 zones have been suggested in a new report produced by Finding Sanctuary.
Fishing and any sea leisure activities which could endanger important species and habitats would be restricted in the zones.
Organisations including Natural England and Defra are involved in the project.
Finding Sanctuary has been set up by the government to recommend marine conservation zones. Fishermen, sea anglers, boat owners and surfers have all be involved in the research.
The final report has to be completed by August and negotiations over the positioning of the zones are continuing.
Some fishermen have expressed concern about the proposals.
'Ensure habitats'
Exmouth fisherman Harry Green said: "It always looks good when it's just small areas, but there's lots of small areas that keep being added on and added on.
"It would be nice to know the reasoning behind it all really."
Tom Hooper, from Finding Sanctuary, said: "We're looking at trying to ensure the habitats there are not subject to the damage that they're currently subject to.
"It's about trying to minimise activities within the conservation zones."
There are existing marine protected areas in the South West, including Special Areas of Conservation and Special Protected Areas.
The purpose of the marine conservation zones is to protect nationally important marine wildlife, geology and geomorphology.
The South West Fish Producers Organisation is urging people to view the new charts quickly if they want to lobby for changes.
If approved by the government this summer, the region's new marine conservation zones could come into force in little over a year.