New plans unveiled for Carlyon Bay resort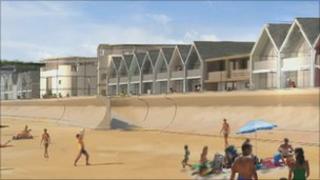 Plans have been unveiled for a £250m redesigned development in Cornwall halted because of planning rows.
The 500-apartment development in Carlyon Bay by the Commercial Estates Group was stopped when a public inquiry rejected the plans.
Critics say the original plans and the redesigned ones are too big and inappropriate for the site.
The company said it had made a new planning application and the revised scheme took such concerns into account.
'Wrong message'
Planning permission was first granted in 1991 for the project near St Austell and sea defences were originally built to protect the apartments and construction workers.
But when developers applied to upgrade the defences, opponents claimed they were too big, unsafe, and could damage the environment.
A subsequent public inquiry held in 2006 said it rejected the plans when its results were published in 2007.
Commercial Estates said it believed the new 511-apartment plans were an "improvement on what we've considered previously".
Spokesman Jonathan Kenny said: "We think that this new plan addresses a lot of the concerns that were previously expressed, such as improvements to the sea defences, reducing the density of the development and actually lightening the touch on the beaches."
However, local campaigners against the development said it was still too large and could set an unwelcome precedent.
Peter Price, of the Carlyon Bay Watch organisation, said: "People come to Cornwall for its natural coastline, its access to beaches. This development sends the wrong message.
"The best thing for this site is for someone to take it over and clear it."
A decision is expected from Cornwall Council before the summer.
9 March, 2011: Some details in this report have been corrected following information supplied by a reader with an interest in the issue.