Truro Cathedral spire refurbishment work completed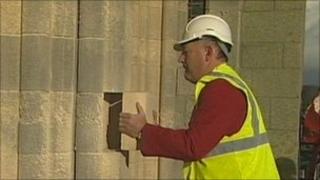 The final stone in the refurbishment of Truro Cathedral's main spire has been cemented into place.
About 1,300 stones have been replaced on the structure after more than a year of work.
Canon Perran Gay from the cathedral staff had the honour of placing the cut stone on to the east side of the on the 245ft (74m) high Victoria tower.
The £1.6m cost of the work has come from a number of grants and support from the people of Cornwall.
However, some eroded pieces have had to be left, the cathedral said.
Canon Gay said: "We've had to prioritise to see where the serious wear was.
"We've also had to prioritise by concentrating as far as possible on the higher levels because they're the hardest bits to get to.
"To get to the top involved three months of putting up scaffolding, so we've concentrated on the very high work."
The Victoria tower and spire is named after Queen Victoria. It was completed in 1905.
The cathedral itself was completed in 1910.
Its stone has been eroding over the past 100 years, raising fears about its safety.