Cornwall Council defends website videos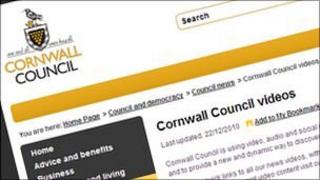 Cornwall Council has defended making videos to go on its website, despite some having few viewers.
Sixty-four videos have been posted on the authority's website in 12 months.
Research by BBC Radio Cornwall logged one day's internet traffic and found they were watched 3,699 times, an average of 58 times each.
The council said its films and podcasts were "an increasingly important and effective method of communicating key messages" to the public and its staff.
'Cheaper' method
The videos cover a variety of subjects, from how gritters were deployed during recent freezing conditions, to a film about the Gyllyngdune Gardens restoration project in Falmouth.
During the BBC Cornwall research, which followed the viewing rates of the videos on 19 January, a video highlighting Cornwall Young People's Manifesto for 2011 recorded seven page impressions.
Figures also showed that a film by the council's head of service, schools and achievement David Wood explaining a new school messenger system was watched twice in two months.
The council said the videos were made by its communications producer and they were only one aspect of the job.
It said making material in-house was considerably cheaper than commissioning it from a private sector company and that video clips and podcasts were available via 19 external websites to attract a wider audience.
Webcasts of council and cabinet meetings, which have been trialled over the past nine months and produced by the same staff, have been watched by more than 45,000 people, either live or later on the website's archive section.