Anger at 80ft Network Rail mast in Cornwall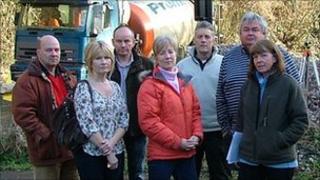 Residents of a Cornish hamlet have called on Network Rail to stop construction of an 80ft radio mast near their homes.
The company has admitted not everyone living in Sandplace near Looe was told about the plan due to an "administrative error".
It claims the mast improves reliability and allows for 100% signal coverage.
But one resident, Derek Bolton, said the mast had been sited "on top of people's homes".
Steven Wright said the work was being carried out without any consultation with residents.
"They're doing everything by the back door," he said.
Network Rail have pledged to paint the completed mast green in an attempt to reduce its impact on the area.
Speaking on BBC Radio Cornwall Caroline Foster said she was concerned about the impact on the ecology of the area.
The radio waves were being broadcast on frequencies that would affect the local bat population and small vertebrates, she said.
Network Rail has insisted it is complying with an EU safety directive and that the mast meets guidelines for power output, frequency and safety.