Royal Fleet Auxiliary ship makes last Plymouth call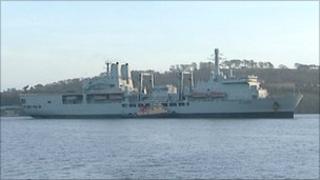 A Royal Fleet Auxiliary support ship has sailed into Plymouth for the last time to unload its cargo and equipment.
Fleet replenishment ship RFA Fort George is being taken out of service as part of Ministry of Defence cuts.
The vessel, which was launched in 1991 and entered service in 1994, was given a refit costing £18m two years ago.
Commanding officer Capt Jamie Murchie said its fate had yet to be determined, but it was "a privilege to be here at the final moments of a ship's life".
The 204m (670ft) long ship has a displacement of 36,580 tonnes and a crew of more than 120.
It has a hangar and maintenance equipment for helicopters and can carry more than 10,000 tonnes of fuel and water.
It also has more than 5,600 metres-cubed of storage for items of naval stores, ammunition, food and general stores for issue to other ships.