Devon and Cornwall MPs challenge coastguard plans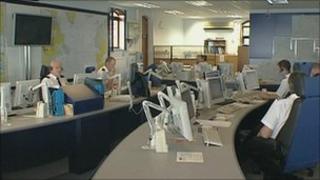 MPs from Devon and Cornwall have called on the government not to downgrade coastguard services in both counties.
Under proposed changes, the Falmouth centre in Cornwall will only cover daylight hours and Brixham's station in Devon will close completely.
The MPs said the planned changes made little sense and there were concerns at loss of local knowledge.
During a House of Commons debate, shipping minister Mike Penning said no final decision had been made.
The government wants to cut the number of stations around the UK from 18 to eight.
Falmouth currently covers 660,000 sq-miles of the Atlantic Ocean.
Speaking in the House of Commons, Truro and Falmouth's Conservative MP Sarah Newton said Falmouth was the busiest station in the UK and the "jewel in the crown" of the nation's maritime rescue efforts.
"It simply does not make sense and is a waste of money to develop a new centre to recruit and train in Southampton to replicate what has already worked so well in Falmouth."
If approved, the changes would mean the closure of Brixham and Portland in Dorset, meaning the nearest round-the-clock cover would be on the Solent.
'No cover cuts'
Torbay Liberal Democrat MP Adrian Sanders added that local knowledge was an "extremely important point from a West Country perspective".
He said: "I wonder, for example, how somebody in Solent would react if a call came in that somebody was in difficulties off Blackpool beach.
"We have a Blackpool beach, just as Lancashire has a Blackpool beach."
Critics of the plans have also voiced concerns that any moves could put lives at risk.
Mr Penning said change was needed to the coastguard service, but that there would be no reduction in cover.
He said: "It is wrong - really wrong - to use emotive language to say that people will die if these changes take place because there is no evidence for this at all."
A consultation process is under way. It ends on 24 March.