Heating oil theft closes Bugle School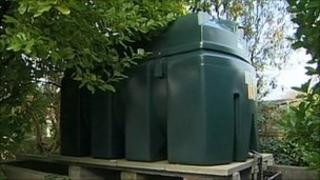 A primary school in Cornwall has had to close to because its oil supply has been stolen.
About £600-worth of oil is believed to have been taken from Bugle School on Thursday night, leaving the school without heating.
The school was closed for Monday, but staff hoped to open it on Tuesday, the school said.
Sgt Richard Crosby, from Devon and Cornwall Police, said the theft was "a shameful thing to do".
Rise in thefts
He said: "They don't look at the consequences. These people are wrong, they don't think of that. They just go in, nick it and go again."
The school said more oil was delivered on Monday and engineers were working to get the heating system running again.
Devon and Cornwall Police said earlier this month there had been a sharp rise in the number of thefts of heating oil within the force area.
Anyone who wanted to ensure their fuel supplies were secure could contact crime prevention officers for advice, Sgt Crosby said.
Last week the Office of Fair Trading said it would investigate the market for heating oil and other "off-grid" energy following public concern about high costs, particularly over the cold winter weather.
According to figures from the Office for National Statistics, the price of liquid fuel has increased by nearly 50% in the past year.