Cornwall health bosses quizzed on NHS service changes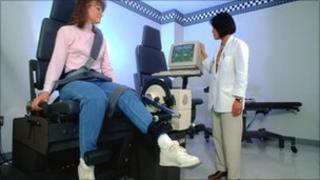 Health managers and GP's in Cornwall have been quizzed over changes to the way local healthcare will be delivered.
Cornwall and Isles of Scilly Primary Care Trust (PCT) is handing control of some adult services to a separate company.
A GP commissioning group and community interest company will run services such as physiotherapy, district nurses and minor injuries units
The public meeting on Friday was organised by St Ives MP Andrew George.
The proposed changes are part of the government's plan to give family doctors the power to run their own NHS budgets.
Liberal Democrat MP Mr George, who is a member of the Health Select Committee, has been critical of the plans describing the changes as a "train crash waiting to happen".
But Steve Moore, the acting chief executive of the PCT said it was important to discuss the way services would change.
"I think all we can do is keep talking and be as open as we can be about what the issues are," he told BBC News.
He said he understood people's concerns about how the changes would affect staff and patients.
"I want to ensure we have the debate about how services are going to change," he said.
"Of course we need to ensure that our staff are protected and supported and I understand there are concerns, but this is about how services are delivered on the ground."
Councillor Chris Gonninan who sits on the health overview and scrutiny committee at Cornwall Council has called for more time to debate the issues raised at the meeting.