Two teenagers arrested after Treviglas school fire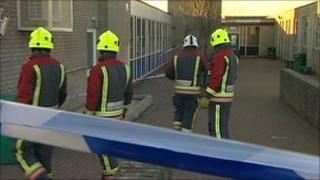 A school in Cornwall has been severely damaged by fire.
Cornwall Fire and Rescue Service were alerted to the fire at Treviglas Community College in Newquay just before midnight.
More than 40 firefighters fought the blaze which severely damaged three rooms in the maths and science block of the school. No-one was injured.
Devon and Cornwall Police have arrested to 17-year-old youths on suspicion of burglary and arson.
They are being questioned at Newquay police station.
Animals saved
More than 1,000 pupils aged between 11 and 18 attend Treviglas.
Head teacher, Karen Ross, said the school would remain closed for most pupils, although A-level students were able to sit a planned examination.
It will open on Friday for students in year 10, 11, 12 and 13, but year seven to nine pupils have been asked not to attend.
Staff have rescued students' course work and the school's pet animals.
Forensic teams, including a sniffer dog, have been on site to investigate the fire.
Chris Ruberry, the fire investigation team's group manager, said the fire took hold very quickly.
"We were able to stop the fire from spreading throughout the whole of the science block, which was very lucky," he told BBC News.
"But there's still extensive damage within the classrooms and offices and smoke has spread beyond that."