Newquay restaurant licence warning over young drinkers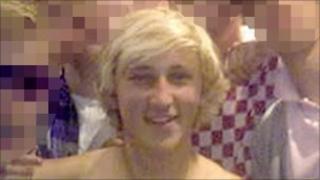 A restaurant believed to have served alcohol to a 16-year-old on the night he died in Newquay has been allowed to keep its licence.
Paddy Higgins, of Winnersh, Berkshire, was three times over the legal drink-drive limit when he fell from cliffs in the Cornish resort in July 2009.
An inquest heard Paddy and some friends had been able to buy beer and spirits at the Indian Express restaurant.
Cornwall Council's licensing committee issued a warning to the restaurant.
The teenager was in Newquay with friends to celebrate the end of GCSE exams.
A review of the Central Street restaurant's licence was carried out at the request of Devon and Cornwall Police and revocation would normally have been considered.
The licensing sub-committee said there had been conflicting evidence from the police and the licence holder, but on the balance of probabilities, it was persuaded the group had been served alcohol.
Sub-committee chairman Jon Stoneman said the warning sent a clear message that serving alcohol to people under age would not be tolerated.
"This warning, with any other infringements, means there could be further consequences for the premises," he told BBC News.
Paddy's death had been a tragedy, Mr Stoneman said, but the committee had a legal duty to consider only the evidence.
"We certainly don't want to condone or encourage any under-age drinking."
In June 2010 an inquest into Paddy's death returned an open verdict.
It said alcohol consumed and purchased elsewhere had played a "significant part" in Paddy's death, but only the Indian Express had been reviewed because it was the one premises definitively identified in witness statements.
John Higgins, Paddy's father, said he was disappointed in the committee's decision.
"To me it seems to send out a message that you're going to get away with it," he said.
"Patrick definitely has some of the responsibility for what happened that night and my responsibility is to try to make sure it never happens again.
"So I'm glad that restaurant has been tested and passed, but the message that's gone out to the licensing trade is that they can get away with it and that isn't acceptable."