Hospital compensates Cornish C. difficile death family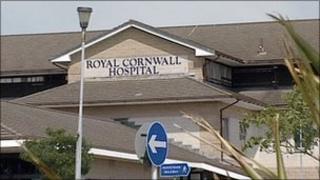 The family of a woman who died from a superbug infection has been awarded a five-figure sum in compensation, a hospital in Cornwall has confirmed.
Rosemary Congdon, 56, from Truro, was admitted to the Royal Cornwall Hospital in 2008 after fracturing her leg.
She was discharged but she collapsed three weeks later and was re-admitted to hospital, where she died from Clostridium difficile in April 2008.
The Royal Cornwall Hospital Trust said it had apologised to the family.
'Neglectful in protection'
An inquest in Truro last year was told when Mrs Congdon, who also had who had multiple sclerosis, was treated on an orthopaedic ward, four other people with C. difficile were being treated in the hospital.
The coroner ruled she probably contracted the bug while being treated in hospital.
Truro solicitors Coodes said the firm was pleased to have secured compensation for the family.
But Bob Beard of the firm added: "However, we were not dealing with a broken limb or injury from which recovery was able to be made.
"This is the loss of a life because RCHT were neglectful in protecting Mrs Congdon from infection.
"Despite living for many years with multiple sclerosis, Rosemary Congdon enjoyed an active life. This was cut short by C-diff."
Charity donation
The Royal Cornwall Hospital Trust said the settlement was agreed in November 2010 and that it had expressed its sympathies to Mr Congdon's husband.
It said: "Mrs Congdon's care was thoroughly reviewed through our complaints process in 2008 and the subsequent inquest in 2009.
"The trust takes any instance of C. difficile in its hospitals extremely seriously and strives to continue to improve and monitor its performance in this area."
C. difficile is found naturally in the gut of approximately 3% of adults, and presents no threat as long as the normal balance of gut bacteria is maintained.
However in weak or frail patients, it can cause diarrhoea and severe inflammation of the bowel, which can be fatal.
A proportion of the compensation was to be donated by the family to the Cornish MS charity, the Merlin Project, the solicitors said.