Cornwall MP warning over new solar farms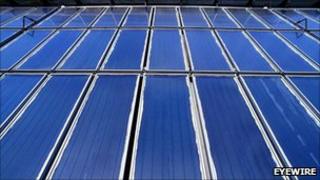 A rush of applications for solar farms in Cornwall may be curbed by the government, an MP has warned.
Cornwall Council has had 100 informal requests for solar farms. Four formal applications have been granted and eight are pending.
Developers want to take advantage of a guaranteed premium price paid for renewable energy.
George Eustice, MP for Camborne and Redruth, said the tariff should be aimed at domestic solar panels.
"The government has sent very strong signals to the industry that they don't want all this money spent on large-scale arrays.
"I think they would be happy to see a few of them as pilot projects, but they don't want to see all the money go that way," he said.
Mr Eustice said a lower feed-in tariff - the price paid for renewable energy fed into the electricity grid - may be introduced for large-scale solar farms.
Climate Change Minister Greg Barker said in a statement that he would act "if the current growth of solar farms gets out of hand".
Julian German, Cornwall Council cabinet member for the environment, said: "My opinion and the council's is that there won't be a change to the feed-in tariff before April 2012.
"We are concerned that we restrict the visual impact of large sites, but there are sites in Cornwall that can host such sites."