Two girls rescued after car goes over cliff in Cornwall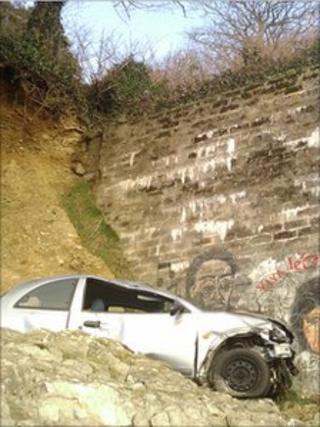 Two 17-year-old girls escaped with minor injuries after their car plunged 40ft (12m) down a cliff in Cornwall.
The teenagers managed to get out of the vehicle after coming off the road at Pendennis Point, near Falmouth, at about 2215 GMT on Saturday.
They were rescued from rocks below the cliff by an RNLI lifeboat and taken to the Royal Cornwall Hospital in Truro.
Coastguards said the outcome could have been "a lot worse" if the car had landed on its roof.
The accident happened on the road just beyond the Pendennis Point beauty spot, just a short distance from Falmouth Coastguard Station.
According to coastguards, the car landed on its wheels and lodged in a gully.
Badly damaged car
The girls were unable to climb back up the cliff and police who had arrived at the scene contacted coastguards, who called out the Falmouth inshore lifeboat.
Neil Oliver, from Falmouth Coastguard, said: "It very easily could have been a lot worse if the car had gone nose first and then flipped onto its roof.
"It's quite a drop but it's lucky that it somehow landed on its wheels."
Devon and Cornwall Police said the girls were local to the Falmouth area.
The car, which was badly damaged, will be recovered in due course.
In December, the government announced plans to only have Falmouth's coastguard station manned during daylight hours, as part of a move to cut the number of main coastguard centres from 18 to eight, with only three open 24 hours a day.
Falmouth currently monitors an area of 660,000 square miles of the Atlantic Ocean.
A consultation period on the closure plans is still going on.