RSPCA operation to rescue sheep from Porthleven cliff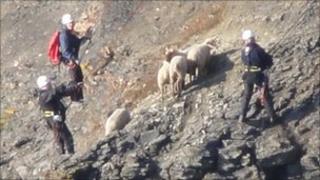 Seven sheep have been rescued after becoming stuck on two ledges on a cliff in Cornwall.
The animals were rescued from the steep cliff at Porthleven after two days and two nights on ledges about 200ft (60m) high.
Five animals from the higher ledge were led back up the cliff top. The remaining two were put into bags by rescuers and hoisted back up.
An eighth animal is believed to have fallen into the sea.
Survival concerns
In a three-hour operation, RSPCA staff, together with members of a coastguard team, abseiled down the cliff-face to reach the first five sheep on the higher ledge.
They contained the animals until a path was dug into the cliff overhang to allow the sheep to be led back to the top.
The rescuers then went to the lower ledge to retrieve the two remaining animals.
The sheep were put into the bags and hoisted back to the top because of the steepness of the cliff in that area.
One of the concerns was that the animals were getting weaker and dehydrated, which could have resulted in them dying.
Farmer Hugh Dawson said: "I've no idea how much longer they could have survived down there."
Cliff rescue experts and a lifeboat were also involved in the operation.
Local people said they believed that the sheep were chased over the cliff by dogs.