Investigation into Penzance harbour hotel development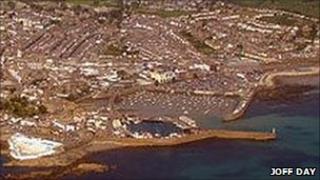 Controversial plans to build a hotel, flats and offices in a Cornish seaside resort are being investigated by Cornwall Council.
A planning officer has already approved the Travelodge development at a former gasworks in Penzance harbour.
But opponents said the application should have been considered by a council committee.
Cornwall's Planning Procedures Panel is to check procedures were properly followed.
Terry Kendall, who owns a guest house in Penzance, said: "We're appalled and shocked that a development as big as this is for Penzance has been taken out of everybody's hands without a nod to anybody else in the town."
He said there were concerns that it was the wrong kind of hotel for Penzance in the current economic climate.
'New jobs'
Liberal Democrat Cornwall councillor Tamsin Williams said planning approval was granted about 21 days after the town council first discussed the proposal.
She said: "It was very fast and I don't think anyone expected a decision to be made in that amount of time.
"I wasn't informed the decision would be made by a planning officer."
But Mike Waters, chairman of Penzance Chamber of Commerce, said: "The development will bring new jobs to the town.
"Travelodge don't have their own restaurants so all the guests will be eating in restaurants, pubs and cafes in the town.
"It's utilising a site that's remained derelict for decades."
Travelodge said that its current sites in Cornwall perform strongly all year round and it expected that its Penzance site would become one of its top-performing hotels in the UK.
The development proposal follows plans for a new £44m ferry terminal linking Cornwall to the Isles of Scilly to be built in another part of the harbour.
Critics of that scheme have said it would spoil a historic section of the seafront.