'Support our pubs' urge campaigners in Cornwall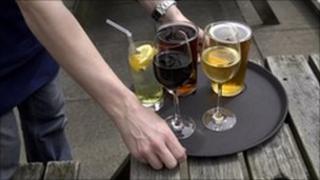 A new campaign group in Cornwall has been set up to support struggling pubs and encourage more people to use them.
Darren Norbury, from Campaign for Real Ale (Camra) said 2011 was going to be a "very tough year for pubs" because of the economy, smoking ban and cheap alcohol being sold in supermarkets.
The group was concerned about the recent spate of pub closures.
Mr Norbury said the campaign was all about people backing their local pub - an important local service.
Ministers have unveiled plans to set a minimum price for alcohol in England and Wales but Mr Norbury said the prices were "far too low".
"There's no way a pub can compete", he said.
The campaign is being supported by Skinner's Brewery in Truro.
Mr Norbury said: "This campaign is not about beer, it is about supporting the pubs we've got and fighting to save those that are threatened".