Wadebridge aims for 30% renewable power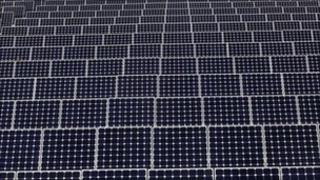 Renewable energy campaigners want to harness energy from wind and the sun to generate 30% of a Cornwall town's electricity needs.
Wadebridge Renewable Energy Network (Wren) wants to explore ways of introducing hundreds of solar panels to the roofs of homes and businesses.
Wren says that the scheme could also generate £450,000 a year for the town.
The money would come from a feed-in tariff which offers a premium price for renewable energy.
'Financial benefits'
A number of developers and landowners have shown interest in setting up solar energy farms in Cornwall to take advantage of the feed-in tariff.
Stephen Frankel, of Wren, said: "We've some of the best sun and wind resources in the country, so we want to harness them for the good of the people of Wadebridge and neighbouring parishes.
"In other renewable energy projects most of the financial benefits go out of Cornwall, and mostly go out of the country.
"Wren will make sure that these stay here in Wadebridge to bring jobs and other benefits to all sections of the community."
The project, which has the support of local MP Dan Rogerson, will be launched on 22 January in Wadebridge Town Hall.