Polruan boat watch scheme to protect marine equipment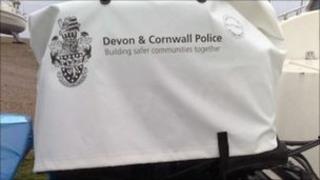 Boat owners and users in Polruan are being asked to volunteer for a scheme to help cut marine crime.
There are already several Boat Watch teams in Cornwall, including Falmouth - where the pilot scheme was tested, Fowey, Truro, Looe and Lerryn.
Since Devon and Cornwall Police launched the initiative in Falmouth in July 2009, thefts in the port have fallen by about 40%.
The scheme is run by the rural neighbourhood policing teams.
Stolen outboard motors can fetch up to £10,000, but the force has special theft prevention kits which include special marking equipment and a Devon and Cornwall Police cover to help boat owners protect their engines.
'More the merrier'
Boat Watch teams liaise with local harbour masters and boat owners' associations and carry out routine patrols.
People who own or use boats and local residents over the age of 18 can volunteer.
"There are no restrictions - the more the merrier and it helps to spread the load," Police Community Support Officer (PCSO) Steve Cocks told BBC News.
"We would ask any member of the community who lives near a river, uses a river or regularly walks near a river to join our expanding band of Boat Watch volunteers in Looe, Lerryn and the forthcoming Polruan Boat Watches."
Funding has been secured for signs and high-visibility tabards are available for volunteers.
"We can all work together in making our communities a harder target for thieves," PCSO Cocks added.