Sixteen South Crofty mine workers lose jobs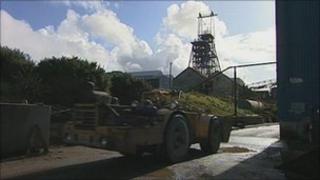 Sixteen mine workers have lost their jobs at South Crofty in Cornwall in a cost-cutting move.
Mine owner Western United Mines (WUM), which employs 60 people at the site, is hoping to re-open the tin and copper mine which was closed in 1998.
But re-opening has been put back by planning issues and the firm said it needed to "significantly reduce operating costs".
The union Unite is hopeful that the workers can be re-employed later.
WUM is awaiting the result of negotiations on swapping some land at the site with Cornwall Council in a move which would provide space for modern mine buildings.
WUM said in a statement: "The move follows a need to significantly reduce operating costs whilst awaiting the outcome of planning decisions and other matters concerning the relocation of the mine site.
"Our confidence in the resource potential of South Crofty remains undiminished and we look forward to progressing our plans for the re-establishment of production at the mine."