Anger over Cornwall Council parking income shortfall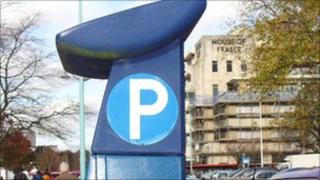 Controversial plans to increase parking charges in Cornwall have been delayed.
Cornwall Council has admitted there is a serious shortfall in the income from its car parks.
There have been claims it could be as much as £1m, but the council said figures were still being collated and would not be known until Friday.
The Conservative-led council has blamed the icy weather over Christmas and the recession.
'Cash cow'
At a meeting in County Hall, Truro, the cabinet deferred a decision over increased charges until February.
Angry Liberal Democrat councillors described the missed income target as "gross incompetence".
Alex Folkes, the Lib Dem councillor for Launceston Central, said the council viewed car parks as "a massive cash cow which can be milked for as much money as possible".
He said if the shortfall was as much as he feared it would mean adding at least 20p to the cost of every car park visit, which would hit low-paid workers the hardest.
"We do not believe that local people can afford to pay such charges," he said.