Stroke care for Cornwall patients praised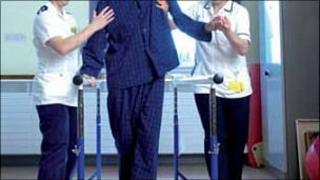 Support services for people leaving hospitals in Cornwall after suffering a mini-stroke have been praised in a study of health trusts in England.
The Care Quality Commission report ranks Cornwall as one of the "better performing" areas in terms of long-term care and support.
But the Primary Care Trust (PCT) must improve services for carers and support for "participation in community life".
About £200,000 a year is spent on community care for stroke patients.
The figure includes paying for six full-time equivalent specialist therapists and the 20-bed stroke rehabilitation ward at Camborne Redruth Community Hospital.
A specialist unit is also expected to open at Bodmin Community Hospital later in the year.
Maggie Scott, nurse consultant for stroke for the PCT, said they hoped to introduce "early supported discharges" for stroke patients which would provide some form of therapy "seven days a week in their own home for a set period of time".