Tremough Innovation Centre building begins near Penryn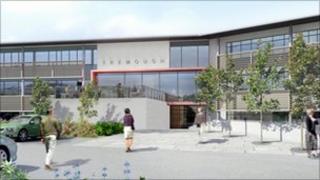 Work has started on a new £13m business park in Cornwall.
The Tremough Innovation Centre is being built next to the Combined Universities in Cornwall (CUC) campus at Tremough, near Penryn.
Nearly £10m is being pumped in by the European Convergence programme, aimed at helping to develop the Cornish economy.
It is hoped the centre will create 140 jobs and provide facilities and resources for existing and new firms.
The project is a collaboration with CUC partners, the University of Exeter and University College Falmouth, and is expected to take about a year to build.
Offices at the Tremough building will be naturally ventilated, radiator heating will be fuelled from a central wood-chip fired biomass boiler and rain water collected for re-use.
A "green travel plan" has been agreed as part of the planning consent, to encourage people to travel to the site by either using public transport, cycling or car sharing where possible.