Woman in Cornwall escapes tree fall uninjured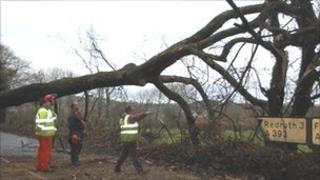 A woman escaped unhurt after a large tree fell onto her car as she drove along a road in Cornwall.
The incident happened on the Redruth to Falmouth road shortly after 0700 GMT.
Fire and ambulance crews were called to the scene. The woman was uninjured but believed to be in shock. The front of her car was badly damaged.
The tree, estimated to be about 100ft (30.5m) high, blocked the road and traffic has been disrupted while work is carried out to remove it.