Warning signs after oil found on Sennen beach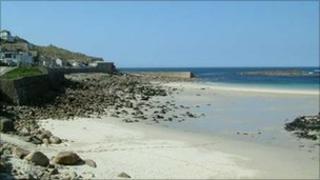 Warning signs have been put up after thick black oil was discovered on a beach in Cornwall.
Falmouth Coastguard was alerted to the incident at Sennen Beach in west Cornwall by a member of the public on Sunday.
A local team was sent to investigate and the Environment Agency and Maritime and Coastguard Agency were informed.
Cornwall Council said the "wheelbarrow full" of oil has now been cleaned up.
The oil, which had been washed up from the sea, was spread along the beach at the high water mark.
Because the amount of oil was not significant, it was not necessary to close the beach.
However, a council spokesperson said if more oil was found on the beach tests would be carried out to determine where it might have come from.