Hunger warning from Cornwall food bank charity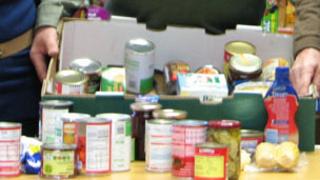 The number of people facing hunger in Cornwall could rise significantly, a food bank organiser has warned.
Congregation members from 22 churches across the Camborne and Redruth areas have been working together to help address the problem.
In six months, the food bank has distributed 1,500 days worth of food.
Organiser Don Gardner said many people were "just one pay cheque away from trouble", with some struggling between losing a job and receiving benefit.
He said few people believed him when he said there were those in Cornwall who faced the simple, but bleak, choice of either staying warm or eating.
The food bank prepares boxes of food designed to last one person for six days.
"It's a frightening situation, because for many, many reasons some people just can't walk into a supermarket, like you and I, because they haven't got the money for it," Mr Gardner told BBC News.
"There are areas where it's like families are hidden in a fog and they don't know how to get out of it.
"We fear it's going to get much worse."
Glen O'Docherty, who lives in a bedsit in Camborne, said his food box had been a life-saver.
He recently lost his job and is still waiting for his Jobseeker's Allowance to start.
"Until then I don't have anything," he said.
"Anybody that finds themselves out of work and out of luck could end up in a situation like this eventually.
"It needs advertising that there is help out there, to give people hope that don't have anywhere else to turn."
Mr Gardner said the food bank attempted to make the contents of the boxes as nutritionally balanced as possible, with canned goods such as soup, fish, fruit and vegetables.
"Hopefully a few days' food might give them a bit of hope," he added.