Cornwall Council approves £170m budget cuts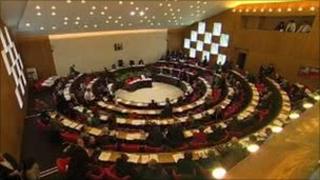 Cornwall Council has approved its emergency budget to cut £170m over the next four years.
Sixty councillors voted in favour of the budget, with 39 against and one abstention.
More than £10m of the savings package will come from frontline services with the plan expected to lead to about 2,000 job losses.
The Conservative council approved the plans on Friday after Tuesday's meeting was postponed due to the weather.
The overall savings amount to 10% of the current council budget which include 29% from leisure services and 23% from library services.
Council Leader Alec Robertson said the cuts had to be made quickly to save pain in the long run.
He said: "This isn't the sort of budget that anybody wants to have to deliver, we're not in the habit of delivering budgets with major cuts.
"But our job was to make the impact of those cuts as small as possible and I'm very pleased and relieved that we've managed to do that."
Campaign leaflets
Mr Robertson said it would have cost £55,000 for every day the budget went unapproved and that delaying it until February, when the normal budget would be held, would cost the council £5.6m.
But the Liberal Democrats said the budget was being rushed through without details.
Doris Ansari, leader of the Liberal Democrat group, said: "Members don't know what they're voting on.
"Months down the line they'll come back and say 'I didn't know that leisure centre was going to close' but they voted for it at the council meeting, when they just didn't know the detail."
Campaigners from Unison and care workers stood outside County Hall all day chanting and handing out leaflets.
They said that despite the budget being approved they were not going to give up on their campaign to protect their jobs and facilities.