Cornish flood damage closes Luxulyan Valley footpaths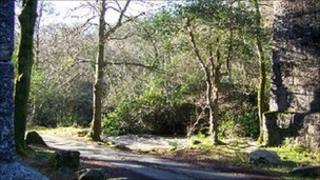 People in Cornwall are being advised to avoid visiting a valley because access has been severely reduced after recent flooding and a railway line landslip.
Several footpaths in the Luxulyan Valley have been closed because of the floods last week and damage to the Par to Newquay line, Cornwall Council said.
Work has begun on repairing the railway embankment and footpaths.
However, restrictions were likely to stay in place until the middle of December, the council said.
Warning signs have been put up at paths which are closed.
The Newquay branch line was closed by mudslides on the track near Luxulyan.
It is not expected to reopen until mid-December, Network Rail said.