Cornwall Air Ambulance completes 22,000 missions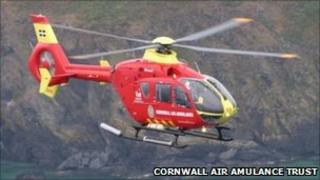 The air ambulance in Cornwall has performed its 22,000th rescue.
The helicopter crew was tasked to airlift a 30-year-old woman from Penzance to the Royal Cornwall Hospital in Truro on Thursday.
The journey was completed in about 10 minutes, compared with an average road journey of 45 minutes to an hour.
The Cornwall Air Ambulance Trust said since the helicopter began flying 23 years ago, it had made a "significant difference" to many patients.
It said about half the patients airlifted to hospital had a potentially life-threatening condition, where time saved in transfer to hospital could make a difference both with the type and success of treatment.
'Milestone' flight
Paula Martin, the trust's chief executive, said with the air ambulance attending about 1,000 emergency missions a year, it seemed appropriate to mark the 22,000th mission.
"We have been in close touch with the crew and the control room in Exeter over the past few days as this milestone flight could have occurred at any time.
"At the start of each day, we have no idea how many times the air ambulance might be called out to serious trauma injury or medical cases like this one in Penzance".
The trust, which is a registered charity, needs to raise more than £1.5m each year to keep the air ambulance flying.
The helicopter's paramedics are provided by the South West Ambulance Service Trust.